A couple of years ago I was searching for a ski glove that would be warm and durable enough to survive the daily wear and tear of ski instructing. I stumbled across a recommendation for Hestra Army Leather gloves and after some further research I bought the Hestra Army Leather GORE-TEX Three Finger Gloves. At the time they cost me £125 which I considered very expensive, I was really hoping they would live up to the hype and survive at least one full winter.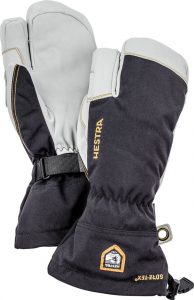 The Test
When they arrived I was really impressed with the quality and comfort. My winter started with training on the Kitzsteinhorn glacier in Austria. We experienced very warm weather of around 15℃, followed by the extreme cold of -32℃ within the first few weeks and i wore these gloves throughout.
The Hestra Army Leather GORE-TEX gloves are very warm so although my hands were warm and even sweaty, the gloves remained odourless unlike many of my friends with cheap gloves.
During the cold times my hands were sometimes cold but again I was coping a lot better than those with cheap gloves. Often it would be my index finger that felt the cold, this is the downside of the three finger compared with the mitten. In these instances I would just move my index finger into the same compartment until it warmed up again.
The Hestra Army Leather GORE-TEX really does keep your hands dry. Being an instructor I work through any weather including rainy days and these really do perform. When the gloves have been cared for and waxed as per manufacturers instructions they will keep you dry all day long.
I only got wet hands when I allowed the leather to dry out (no wax for a couple of months), or when rain water was running in off my sleeve.
Gloves with a wrist strap are a must for me, I need quick access to my phone, tickets etc. and these make life much easier. Also included is a carabiner, this keeps them safe whilst i'm not wearing them. Just be careful not to drop snow in them, if you have any snow in the cuffs make sure you remove them with your hand upwards so that that snow doesn't fall in.
Durability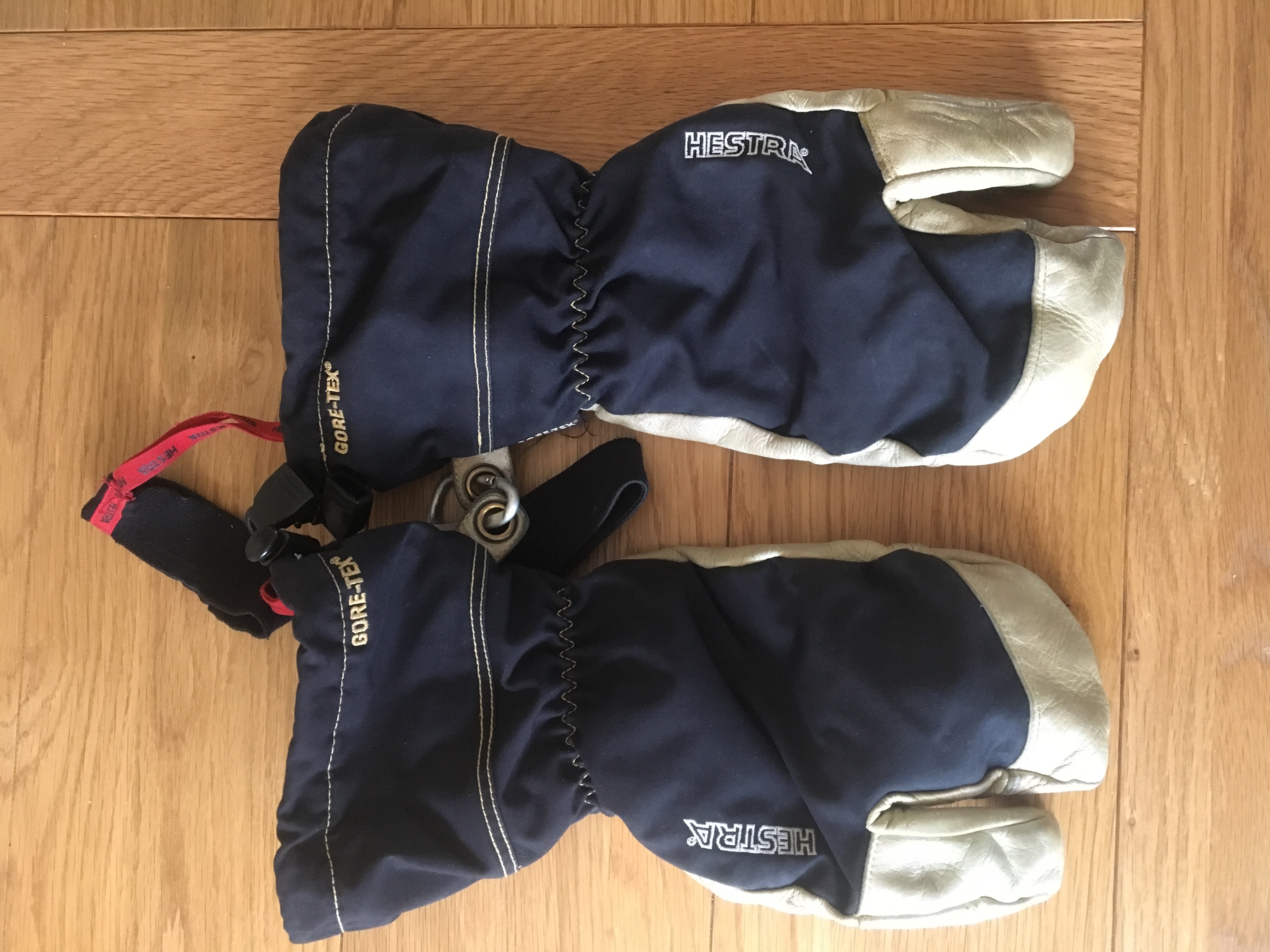 The durability of the Hestra Army Leather GORE-TEX gloves have really impressed, I have now used them for two long seasons (12 months of total use). There are a few cuts from careless ski carrying but they have not cut all the way through. The only other damage is the  leather thumb patch stitching on my favoured ski carrying hand.
The inside is nowhere near as cosy and soft as they originally were but the functionality has not deteriorated. If this will bother you then perhaps look at the none GORE-TEX versions as the liners are replaceable.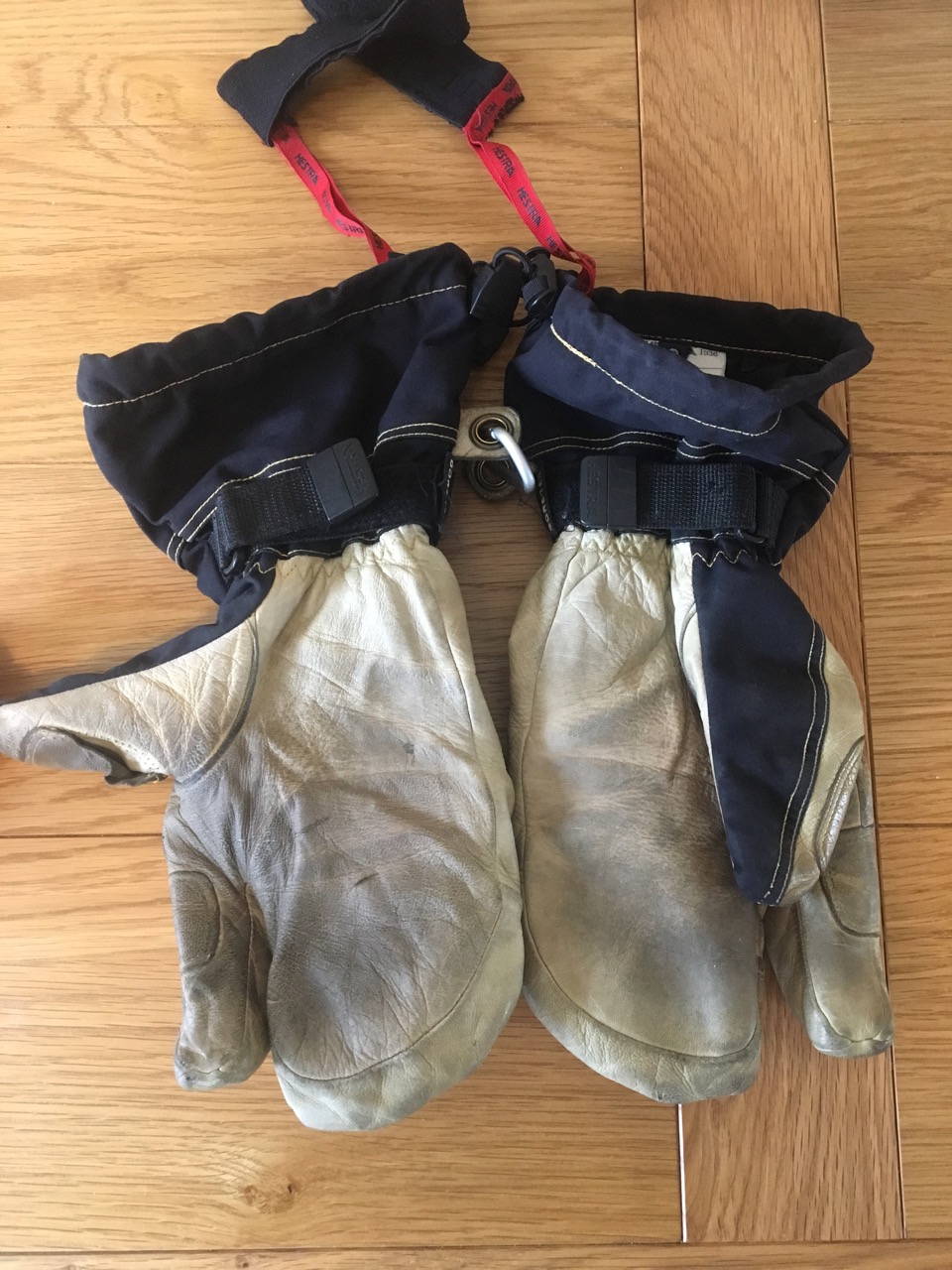 You can see that the white has yellowed which is normal, the dark stains are from the daily set up of training areas and barriers.
Summary
To summarise, I highly recommend these gloves. If you are working or just holidaying in the snowsports world, these gloves will endure and are well worth the extra money.
Check out their full range on the website https://hestragloves.com/sport/en/
Review by Ben Cordingley