Become a Ski or Snowboard instructor
Each year, many people set their sights on becoming a ski or snowboard instructor. For some its a temporary thing, but for many this is becomes a way of life, with a sense of freedom that can only come from finding a job that you enjoy.
Getting the qualifications can seem like a daunting process, and in some cases it is a very difficult one, but not all qualifications and training programs are the same.
Qualification levels vary depending on the country and their national body, and each qualification has a different value.
Some countries have a 1-4 scheme where level one is the lowest and limits those at this level to teaching very young ages or on indoor  / artificial slopes. At level four you are the highest level and therefor can teach at any level including guiding off piste.
In France for example there is only one level, Diplôme d'Etat de Ski Alpin, you have to pass a skills test to become a trainee, but you are not an instructor until you qualify at Diplôme d'Etat de Ski Alpin.
Where to qualify? This is down to what fits you best. Perhaps the best place to start is looking into your own country's national body and see how it fits with your plans, but don't stop looking there. Some qualifications are much more internationally recognised and respected. You may be surprised that qualifying abroad can sometimes be cheaper than at home.
Below are some of the most common countries people travel to to qualify under their national snowsport bodies.
Austria, ÖSSV

Austria has a very well respected national body. Their lowest snowsport instructor level (Anwärter) is very affordable and would allow you to teach almost anywhere in the world.
Landes is very desirable and at a similar level to an ISIA stamp level 2 (international level 3).
Diplom/Staatliche is the highest instructor qualification and its standard is one of the highest in the world, you will be required to pass the Euro Test and once achieved Visa permitting you can work anywhere in the world.
Click here to visit the Austrian Ski School Association website for information on qualifications and training.
Great Britain, BASI


BASI are surprisingly one of the larger ski instructor associations despite the UK not having many snowy mountains. They have an extensive range of courses, in a multitude of snowsport disciplines including: Alpine Skiing, Telemark, Snowboarding, Adaptive (for disabled snowsports) and Nordic.
BASI work closely with ISIA and due to this their qualifications are well respected and accepted across the world. Many Brits going through the French system will start with BASI level 1 and 2 to prepare them for the French 'Test Technique'.
BASI has a four tier qualification system.
Level 1 is considered an introduction to snowsport instruction, once achieved you can teach on indoor and dry ski slopes only.
To teach in the mountains you would need to take your Level 2, this is roughly comparable to the Austrian Anwärter, Canadian and New Zealand Level 2.
The BASI Level 3 is also know as 'ISIA level' as it is designed to meet all the requirements if the ISIA Stamp without any further examinations. With this qualification you will be desired by ski schools across the globe and would often receive sponsorship for visas, teaching on and off piste across all levels.
BASI Level 4 is again actually the ISIA Card qualification so includes the Euro Speed Test, essentially this is one of the highest ski instructor qualification achievable.
Visit the BASI website www.basi.org.uk for more information and courses.
Canada, CSIA & CASI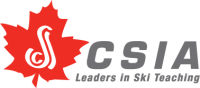 Canada has two separate bodies, CSIA for ski and CASI for snowboard.
Both of these are very well respected internationally and have some of the highest membership numbers out of any snowsport instructor associations.
Their qualifications are a four tier system from one to four.
With a level 1 CSIA qualification you can teach from beginner to intermediate using their Fast Track to Parallel approach.
Level 2 is for the more advanced skiers that have already completed level 1, its more in depth and with this you would be welcomed as an employee in many different countries.
The Level 3 qualification is next up and this allows you to teach on varied terrain up to an advanced level.
Level 4 is their highest level and is described as for expert skiers, the exams include a race coach qualification with CSCF and once achieved you can teach all levels and terrains including training ski instructors.
CSIA and CASI are also members of the International Ski Instructor Association so with level 3 and 4 you are an ISIA level 2 certified instructor.
Visit the CSIA website here, or the CASI website here for more information.
France, ENSA


It is notoriously difficult to work in France, this is because they require you to have passed the highest level before you can teach as a snowsports instructor. You can however teach as a trainee before reaching that top level.
To begin the course you must first pass the Test Technique to become a Stagiaire (trainee), this is quite a difficult as it and includes a slalom test which tends to eliminate those without racing skills or aptitude. Once the Test Technique is passed you can work as a Stagiaire whilst continuing your training. It usually takes a few seasons to achieve and includes the Eurotest, but once you have attained the 'Diplôme d'Etat de Ski Alpin' you will have one of the highest ski instructor qualifications available.
Visit their website: http://www.ensa.sports.gouv.fr
New Zealand NZSIA


New Zealand has a three tier qualification system. Level 1 ski allows for teaching from beginner up to advanced snowplough. It is generally considered a slightly lower level than most three tier first level qualifications, as it does not allow for teaching parallel, this also means that its an easier pathway into the snowsport instruction industry.
Level 2 ski is generally well respected internationally and should allow you to travel to other countries to work.
For level 3 you will have to demonstrate your skiing ability and teach on all mountain terrains.
The great thing about the NZSIA system is that each qualification is broken into small modules that can be taken separately. This can help you fit around your schedule, or just focus on one module at a time if needed.
NZSIA is a member of ISIA so you also have the option of taking ISIA courses to make your qualifications more internationally recognised.
The NZSIA website has a wealth of information if you want to find out more about their snowsport qualifications.
Visit the website for further information. https://www.nzsia.org