I want to tell you a little bit about why I'm not such a fan of the wide 'fat boy' powder skis. And hopefully lead to your suitable powder / all mountain ski.
This style of skis first came about in 1988 when Rupert Huber developed the Atomic Powder Plus skis (originally by cutting a snowboard in half). More than a decade later, Shane McConkey mounted up some water skis, and went on to help in the development of reverse camber skis and rocker skis. The idea was that this would enable the skier to float above the deep powder, allowing more speed and more extreme riding.
All that sounds great! So why am I such a Negative Nelly when it comes to fat skis? Well; it's all about the time and place, and if you're realistic, how often are you going to be more than waist deep in powder?
My short love story with fat skis
As I completed my first ski instructor training and headed out to work my first winter, I convinced myself I needed a powder ski. I headed to the sports shop, and told the assistant about my needs: "I'm going to St. Anton for the winter, I need a powder ski", "ah, St. Anton" he said, "then you need something big!". He directed me to a pair of Armarda Norwalks, 189cm long and 116mm wide (underfoot). I knew nothing better, the price was good and they looked good. So I walked out of there carrying my new skis, and therefore at least +10 skill points.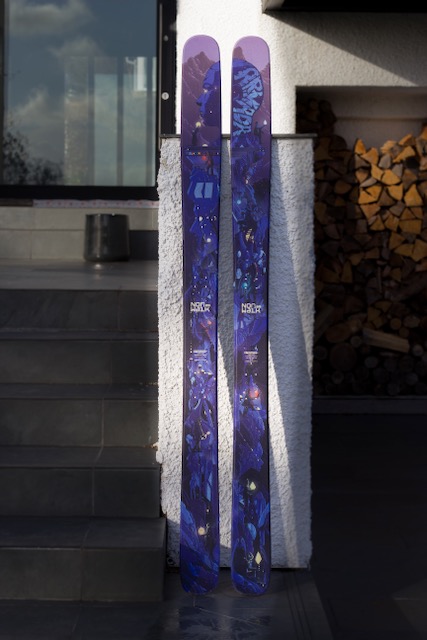 To keep this story short, as an inexperienced skier (comparatively) I loved them because they looked great. I could survive deep off-piste, off-piste that I could not have skied using my piste ski.
The following winter, I had a couple of equipment problems. This led me to buy a pair of used 27m radius, 63mm underfoot race skis. Essentially these became my only skis and therefore, my 'All-Mountain skis" for the majority of that winter. I used them every day in every circumstance, from teaching beginners to 'shredding the pow'.
I believe that this really helped with my technique development, my for-and-aft balance really improved. Without it I would not have been able to turn in the deep stuff. In the springtime, the pistes get really chopped up and sticky. This meant that my initiation of each turn had to be well-timed and balanced.

Eventually, I did finally get a real All-Mountain ski, the Black Crow Orb, 186.2cm long and 90mm wide. They were amazing in the powder, and still great on the pistes. I had two great options for skis, I could choose between a piste ski if I wanted to focus on my own technique. Or if I wanted an easier day without so much concentration needed, then I would take the all-mountain skis. When head out shredding the powder, I am really happy on either set. However, in mixed snow conditions, I take the all-mountains nine times out of ten.
Theres a time and a place
Don't get me wrong, the fat powder skis have a purpose, but… I live and work in St. Anton in Austria, which famous for its 200km of amazing off-piste terrain. However, during each winter season, I would say an would be happy to have around 10 powder days (thats not including if you are teaching off piste). Of those 10 powder days, probably only once or twice that one would appreciate a deep powder ski. So why do so many people feel that a Fat Boy powder skis are an essential peice of equipment?
In the last five winters here in St. Anton, we have had many countless days where the powder was deep enough to hide my nipples if were to skinny dip in it. However, even in those conditions, I love to stick to a ski that's between 80-100mm underfoot. To me, it's all about the joy of dipping in and out of the powder, not just floating across the top, after all, what's the point of two metres of powder if you're on playing in 10% of it.
If you are Heli-Skiing in Canada or heading over to Japan then yes, perhaps you have justification in buying those 114 width J Skis. If you are dropping 15m cliffs for fun then you may need the 120 Bent Chetlers. Don't get me wrong these skis are amazing skis, in the right conditions, perhaps my view would be reversed if I lived in Revelstoke Canada or Niseko Japan.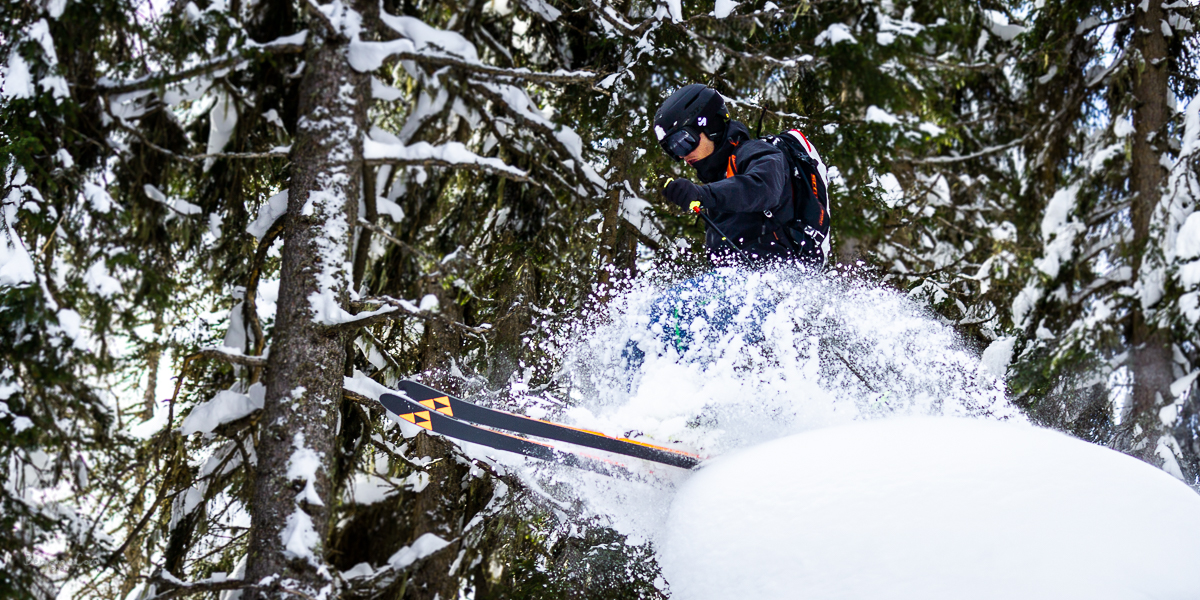 So which skis should you buy for the powder?
Ok so if you have the budget to own five or more pairs of skis, then this is not such a dilemma, you can buy a dedicated ski for each condition. However most of our readers will be looking for a set up with two pairs of skis; a piste performance ski, and an everything else ski.
In my opinion, you should only buy the really fat (110mm and greater width) skis if you are regularly skiing in powder over your head height. Or dropping huge cliffs for your incredible freeride Instagram profile.
Skis around 105-110mm are great if you regularly ski in powder around waist-deep, but they really suffer on the piste, especially if its icy or bumpy.
My favourite bracket is the all-mountain skis of around 80-105mm. These skis are your swiss army knife of your toolkit. Piste, powder, crud, ice, moguls, slush. Great fun for teaching and tick all the boxes for free skiing too.
You should also consider if you want to go touring. A narrower lighter ski is easier to tour with. You should also avoid a really long ski so that you are able to perform a kick turn. It's worth chatting to a professional in a sports shop if you are looking to go down this route.
And the last option? Just do everything on a race ski and quit complaining! With proper technique, you can ski pretty much any terrain on a race ski, you just need to be good, or get good quickly! It is one of the best ways you can force your technical abilities to develop.
Bodhi (below) is using a ski 188cm long and only 65mm width underfoot. At the time we were skiing wind crust on exposed faces and had thigh-high powder in the sheltered exposures.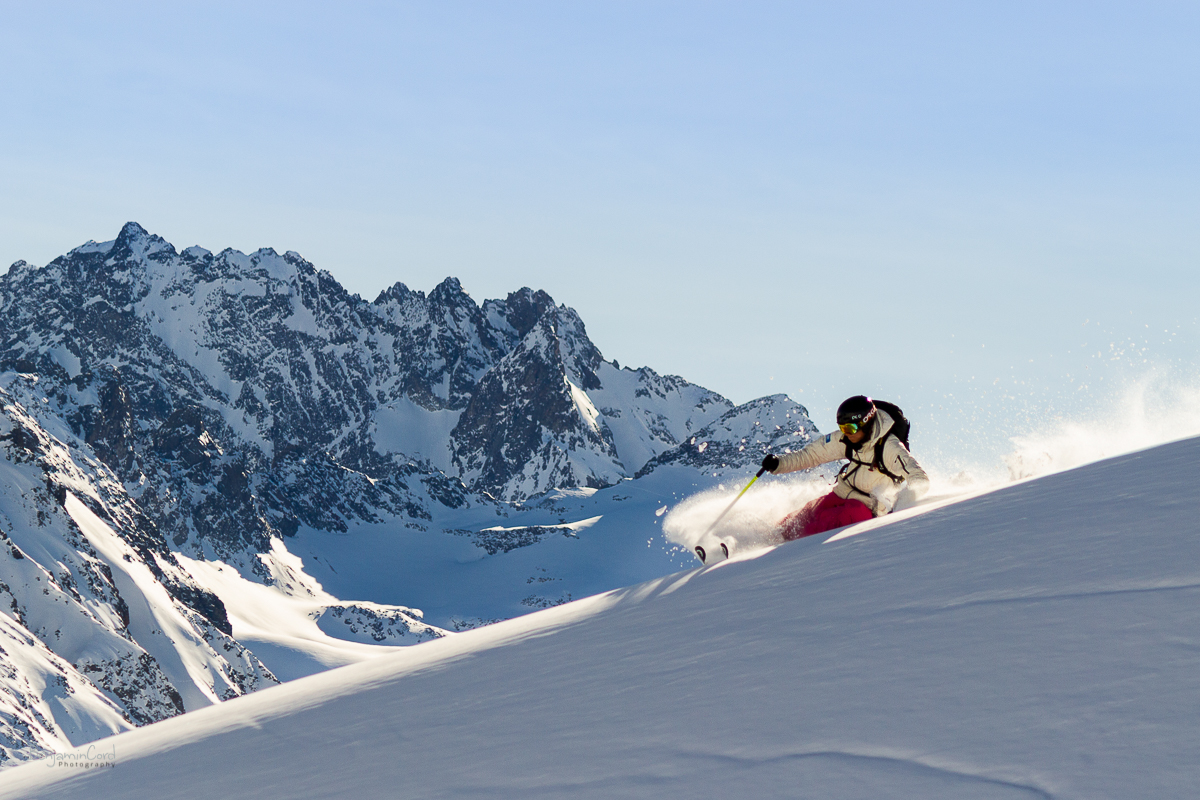 Read more about Shane McConkey and his contributions in ski development. Powder Magazine has a nice article called The Catalyst: Shane McConkey https://www.powder.com/stories/classics/the-catalyst/